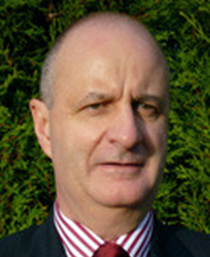 Senior Adviser and Director, UK Matters
 David Hayes has many years experience in export controls, both from an industry and regulator's perspective. In addition to his work with the Trade Compliance Group, David is a Director of his own firm, David Hayes – Export Controls, located in the British midlands.
Until early 2007, David was the Corporate Head of Export Controls for the Rolls- Royce Group, where he worked regularly with the Rolls-Royce Main Board and was instrumental in establishing the Board Exports Committee.
Prior to joining Rolls-Royce, David worked for TRW Aeronautical Systems (later Goodrich) where he was responsible for export compliance globally.
In 2007, recognising an increasing demand from industry, especially in relation to UK companies having to deal with U.S. controls, David established his own consultancy. David continues to provide services to Rolls-Royce, as well as to a rapidly expanding international client base.
David is the Chairman of the Export Group for Aerospace and Defence (EGAD), the UK's leading trade body on export controls, and a widely recognised expert in his field. David is a regular speaker at national and international export control events. David served as the UK export control subject matter expert for US Consultants Booz Allen Hamilton Inc on the Transatlantic Secure Collaboration Program (TSCP) Phase
In addition, David is a guest lecturer on MSc programmes run by Nottingham and Southampton Universities and has recently been closely involved in developing export control training, which is to be offered jointly by Cranfield University and EGAD.
David is involved in many export-control forums, both in the UK and abroad, and has regularly given evidence to UK Parliamentary Select Committees on export control issues.
In what little spare time David has, he spends flying – he is a qualified pilot and flies both fixed and rotary wing aircraft. David spent ten years serving as an Intelligence Officer with 7006(VR) Intelligence Squadron of the Royal Auxiliary Air Force, specializing in Air Defence and Electronic Warfare and was a member of the Association of Old Crows. David is a Fellow of the Royal Aeronautical Society (FRAeS).
+44 1455.822144
david@davidhayes-exportcontrols.com